Who's ready for a fun blog post? Who's a good boy? Who's a good girl? Can you tell that this post will be about …. dogs? Alert Management Systems is a dog-friendly office and we truly enjoy having our special companions nearby throughout the day.  Alert has a long and rich tradition of bringing our dogs to work – does anybody remember Jesse James Ross? He was always on hand to give moral support!  He's doing well and is pictured below.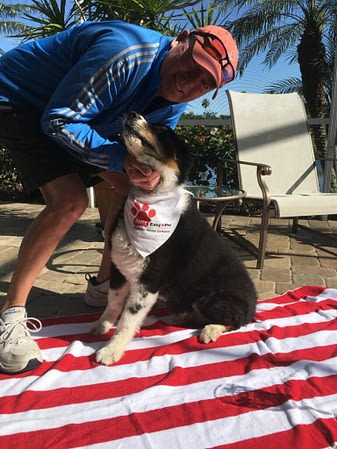 Nowadays, the title of Office Dog is shared between Pepper and Freida. Pepper, 3, is a sweet spaniel rescue and enjoys running with her human, Kara. She loves to greet the water cooler man (OK, she likes to bark at the water cooler man) and says hi to all her friends in the office in Colorado Springs as soon as she runs through the door.  Nobody is more enthusiastic to come to work than Pepper!
Frieda is still a puppy! She's a German Shepard, but we're pretty sure she would flunk right out of police training or guard dog duty because she's simply too sweet!  Freida comes to the office several days a week and works with her human, Jeff.  They play frisbee before work, but it only serves to wear out Jeff and energize Freida.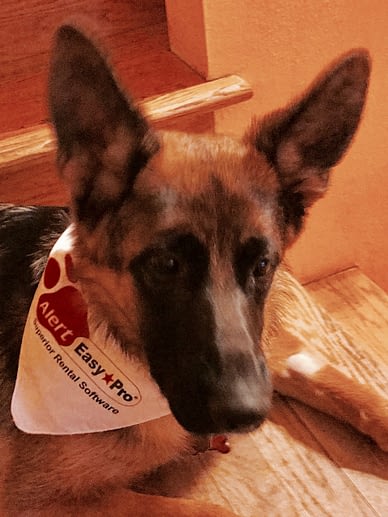 You'll notice that all our furry friends are wearing our special Alert EasyPro #DogsOfAlert bandanas. Let us know if you'd like one!  You don't even have to be affiliated with Alert – Duke is a friend's dog and did a fantastic job of modeling his new bandana.
What does any of this have to do with rental or rental software? Absolutely nothing. But having the dogs of Alert in the office makes Alert a happier place, and when we smile, you smile. That's what it's all about.
For more information on Alert EasyPro, contact us at sales@alertms.com.