Heavy-duty rental software

Designed for your profitability—even through a pandemic.
The word "essential" really has taken on new meaning in 2020. But in the midst of uncertainty, our communities continue to grow and build—which means it's essential that your heavy equipment rental company has the software needed to keep up with the demand.
Automate your inventory management
To focus on growing your business
The changes and uncertainty that have come from COVID-19 are shining a spotlight on inefficiencies across all industries. Is your current software working hard enough to grow and adapt with your changing business? We've helped construction equipment rental companies solve challenges that effect their bottom line, including: 
Get those long-term rentals invoiced and paid quicker than ever with Cycle Billing and Recurring Credit Card Billing.  Bill in advance or arrears, and for multiple cycles.
Integrate directly with your GPS application to know both where your equipment is and how much it's been used. Bill for overages on each cycle bill rather than at the end of the rental.
Organize work orders for repair
Alert's graphical Work Order Dashboard shows the status of your work orders at all times. Use Preventive Maintenance to keep your equipment in tip-top shape and ready to rent.
Do you have a 20% operating profit?
Use our business success formula to help build a plan that delivers a 20% pre-tax operating profit.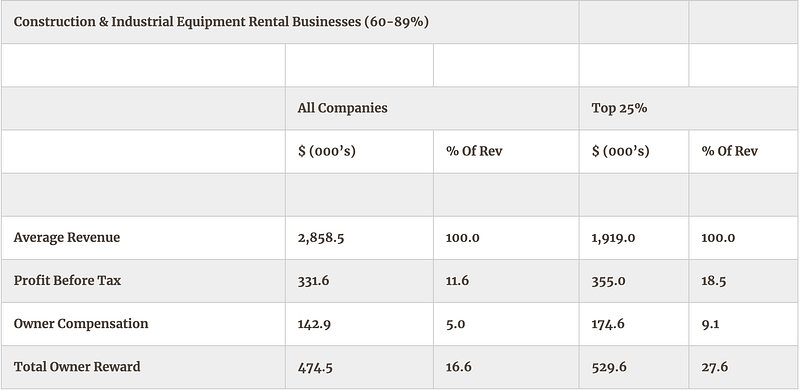 "For companies that derive 60-89% of their rental revenue from construction and industrial equipment rental, the top 25% made a 18.5% pre-tax operating profit. The average for all companies was only 11.6%."
The truth is, you've got a lot of rental software companies to choose from and they're likely all promising the same kinds of features. But you don't need a software provider—you need a software partner. So we've broken down exactly what we offer, along with our competitors.
An honest comparison of apples to apples.
Alert Management Systems

Competitors' Software

Support with Purchase

1 year, included

3 months included

Project Manager

All projects get a personalized project manager, from Saas to Summit—which includes ample training

Only highest investment levels get a project manager. Best for a complete DIY approach

Features

Alert offers a fully featured product at every level. Nothing "Lite"

"Starter" versions need a substantial upgrade to add more features

Credit Card Processing

Use our preferred vendors to save money—or use your own preferred vendor!

Must use their vendors

Windows

Yes

Yes

Linux

Yes

Yes

Hosted

Yes

Perhaps

SaaS

Yes

Maybe

Support Accessibility

US-based support available—by people you know

Extra charges for support, or only videos and articles for help

User Conference

Alert's Users Conference was the first in the industry and meets annually for the past 40 years. Alert users drive our software development.

Most rental software companies don't host user conferences—or if they do, only meet at trade shows

Flexibility

We help improve your processes and work with you to create custom solutions for your rental software

One-size-fits-all approach
Book your FREE, 1-hour consult with our rental expert
Valued at $199 | First 30 spots are FREE
After 32 years in the rental business, Jeffrey Knoepke, our Level III Support and Security Manager has seen it all. From the green screens and dummy terminals to industry changes and national recessions—he's seen, first-hand, what it takes for heavy equipment rental companies to stay profitable. Pick his brain and get your toughest questions asked!