According to IHS Global Insight, the world's leading economic forecasting authority, the United States Equipment Rental Industry is growing three to four times faster than the general economy.
In 2013 rental revenue reached $33.3 billion, up 6.4% from 2012 and up 24.2% versus 2010 when rental revenues of $26.8 billion reached a low point in the midst of the great recession.
In 2014 rental revenue is expected to reach $35.9 billion, up 7.7% versus 2013.
2015 rental revenues are forecast to be $39.8 billion, well above the $36.9 billion record level seen in 2007. By 2018, revenues are expected to reach $51.0 billion, almost double the depressed 2010 level of the last recession.
This growth has been fueled by an increase in rental penetration as both consumers and businesses have discovered that it is less expensive to rent than to buy. As a result, more and more equipment is being manufactured for the purpose of rental. Another factor impacting the future growth of the category is the currently pent up demand for housing. All during the recession the population continued to grow and new households were formed, but many of these new households did not live in their own housing, preferring instead to live with relatives and others. Eventually this pent up demand will materialize in new construction which will further drive the growth of our industry.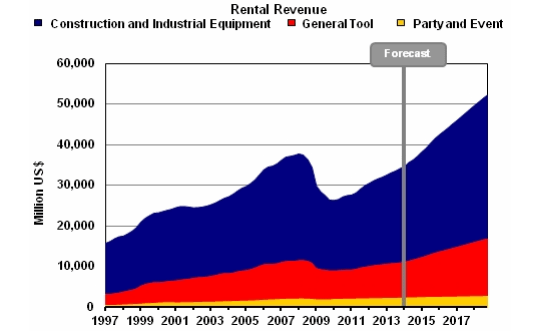 Source: April 29, 2014 Forecast Update by HIS Global Insights
Looking at the major sub-segments of the category, IHS Global Insight forecasts the following:
Construction and Industrial Equipment Rental revenue will reach $24.1 billion in 2014, up 8.2% from 2013. By 2018 revenues will reach $34.3 billion, up 53.8% versus 2013.
General Tool Rental revenue will grow to $9.1 billion, up 7.3% versus 2013. By 2018 revenues will reach $13.7 billion, up 61.2% versus 2013.
Party & Event Rental revenue will be $2.6 billion in 2014, up 4.4% versus 2013. By 2018, revenues will be $2.9 billion, up 16.0% versus 2013.
Local Metro Area Data now inexpensively available through the ARA. Alert Management Systems recommends that rental store owners purchase this new local market data through the American Rental Association (ARA).
We believe this local data, which is updated and provided online each quarter, is critical for putting together realistic rental business plans for 2015 and beyond. After all, it is impossible to set realistic goals without knowing the environment in which a company competes. For each Metro area, the following data is provided for 2011-18:
Construction and Industrial Equipment Rental Revenue
General Tool Rental Revenue
Party & Event Rental Revenue
Total Rental Revenue
Real Gross Metro Product
Real Total Construction Revenue
Total Retail Sales
Total Employment
ARA members can purchase an annual subscription for the National data with quarterly updates for $100. The critical local MSA data for your state, also with quarterly updates, is available for only another $100.
This information is available through ARA's State of the Equipment Rental Industry Outlook 2011-2018 online Market Monitor, compiled by IHS Global Insight. For more information, go to www.ARArental.org or call ARA at 800-334-2177, ext. 270. You may also email Tracy Johannsen attracy.johannsen@ararental.org.
(Note: This is one of a series of blog articles that will appear here frequently. All the blog articles focus on ways to improve rental operators' profitability. All the ideas are based upon the proven experience of our most profitable rental operators. Return here often for additional proven business enhancing ideas. We welcome your comments.)