Weekly Help Desk Notes for February 3, 2021
Change your Alert reports broswer!
Do you prefer Google Chrome or Firefox over the default internet browser? Do you wish you could easily change which browser reports in Alert default to? We have an easy, quick change you can make to your Alert icon that will solve this!
We have both written directions and a video available to walk you through making this change.
As always, you can reach out to support@alertrental.com with any questions on this process.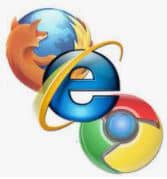 Mark your calendars! Alert is very excited to announce the 2021 Alert User's Conference (AUG) will be August 8th- 10th. We will be having an in-person option here at the Antler's Hotel in downtown Colorado Springs. Based on the great feedback from our virtual conference in
2020, we will be offering ways for you to attend the Conference virtually as well!
Registration will be open soon! If you have any questions or suggestions on what classes or discussions you would like to see, please email AUG@alertrental.com