Who has the time or resources to make a professional website? You don't  – let us do it for you now with Alert Web Assistant!
A website that's ready to go
Using a design that's ready when you are, we'll work with you to create the website of your dreams. This will help you put your best foot forward before your customers visit you. Select the style that suits your business image, send us your logo, and we'll get started! Alert Web Assistant starts with three pages and can add more as you're ready. You know your customers want to see your rental product catalog, so we can make that happen, even if you're not an Alert customer. All our websites are optimized for security, search engine friendly, and have features that customers want to see – front and center. Did we mention the best part? You own it – not us!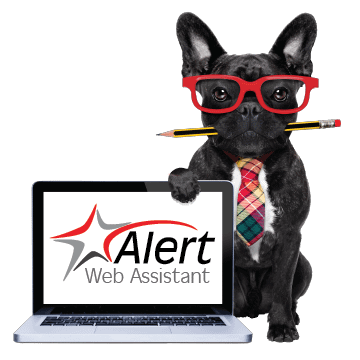 Software doesn't solve problems. People do.
Alert is committed to being your business partner – not simply a vendor.
Connect your website with Alert! Make it even easier for your customers to do business with you by enabling them to start their order online.
Let us help you help your customers help themselves! They can reprint invoices, make payments,view open tickets, and more!
Ready to rev up your online business to the next level? We can help! ECommerce is a fully-featured real time reservations system.
Once you see how easy it is to tell us what to do, we're sure you'll want to add more pages for a polished look. We're ready to help!
So What's Included with Alert Web Assistant?
Three pages are included with Alert Web Assistant. You're going to want a homepage, so that's included by default. Choose two other pages: Rental Equipment, Contact Us, About Us, Equipment Sales, Gallery, Seasonal, Downloads, Promotions, Testimonials, Supplies, Repairs, FAQ, Rental Policy, and custom content. We also include SSL certificate, daily website backups, bi-weekly technology updates, 24/7 uptime monitoring, and all license fees. 
There are on-going fees associated with Alert Web Assistant, including hosting and maintenance fees. Websites created with Alert Web Assistant can integrate with Alert or can be populated from any rental software! Your customers will LOVE being able to start a quote right from your website or pay bills using Customer Portal. You don't need a whole tech team at your disposal – you just need Alert Web Assistant.
Alert Web Assistant Pricing
3-page website – $5000 with $245/month (billed annually) hosting and maintenance support
Additional pages – $1250 each
Alert WebRequests* Add-On – $2500
Sales Item Add-On – $ 2500. Bundle with WebRequests for $4500!
Customer Portal* – $6000 plus $600/year license, hosting, and maintenance
eCommerce* – Request Custom Quote
           *Web Services from Alert are required for WebRequests, Customer Portal & eCommerce for Alert clients.
Ready to learn more? One of our expert Application Consultants will customize a demonstration specifically tailored to your business.