CAD Integration with 3D Event Designers
Move over, clumsy old-fashioned CAD renderings! The future is here! Alert has partnered with 3D Event Designers to wow your customers and automate inventory selection into the rental ticket.
Learn more about 3D Event Designers.
Meet the revolutionary 3D Event Designer. As the name implies, 3D Event Designer enables event planners and event rental operators to engineer realistic renderings of their clients' events. The application is web based, and offers either 2D or 3D floor plan creations. Also on offer, buffet and beverage diagrams, along with seating charts. The end result is a beautiful and interactive rendering of exactly what the venue will look like. No imagination necessary! The best part for event rental companies: once the CAD rendering is complete (with your own inventory!), Alert imports the selected inventory directly into the rental ticket.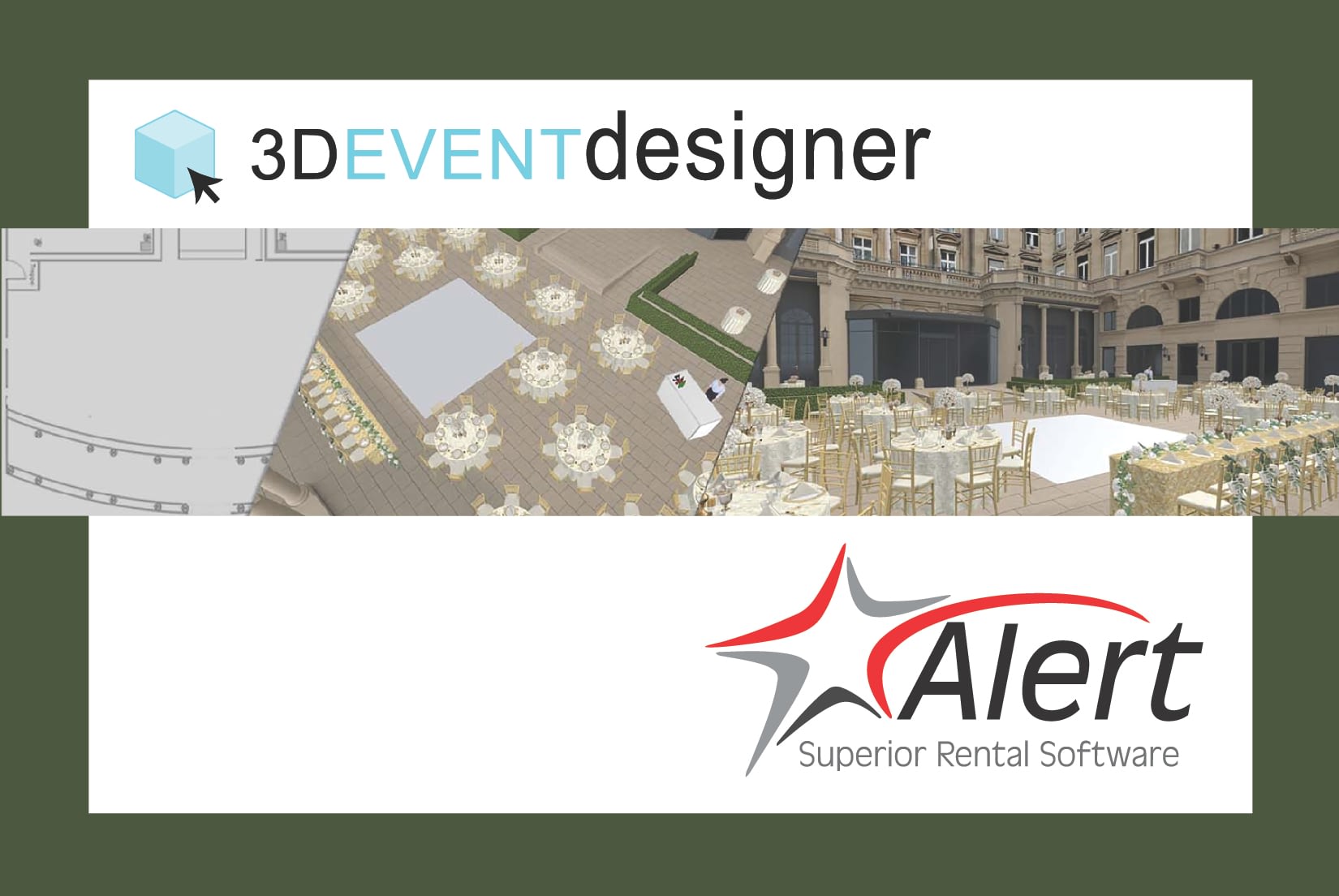 Software doesn't solve problems. People do.
Alert is committed to being your business partner – not simply a vendor.
Save time with Alert's integration. Inventory that is selected on the CAD system is imported to the rental ticket when the 3D rendering is complete.
Upsell your clients with gorgeous and realistic 3D renderings. Not only are you saving time with automation,  you can generate revenue.
Show your clients exactly what their event will look like with your actual inventory – not generalized items like "a chair." It will be YOUR chair.
Do you use the same venues over and over again? With 3D Event Designers, you'll be able to generate floorplans easily from photographs and save the venue for the next event.
Alert's developers are already hard at work on the next phase of our integration with CAD software 3D Event Designers. This next phase will include a two-way rental item population. The current integration allows users to build the event in 3D Event Designers and then export the selected inventory back to Alert's rental ticket, which is a fantastic time saver. But what if you've already build the ticket and want to see what it looks like? Simply export the rental ticket to 3D Event Designer and Voila! Everything from the rental ticket is populated and ready to be dragged and dropped into the rendering. You'll be creating value for your budget-conscious clients, while still dazzling them with a stunning 3D CAD layout.
Ready to learn more? One of our expert Application Consultants will customize a demonstration specifically tailored to your business.